List of Chinese Desserts
Here are some types of Chinese dessets:
Almond jelly – Popular pudding desert found not only in Asia, but all around the world where Asian restaurants can be found.
Banana roll – Common pastry found in Hong Kong, and worldwide restaurants that serve Hong Kong food.
Black sesame roll – Hong Kong desert that consists from refrigerated dim sum of rolled thin layer of sesame paste.
Black sesame soup –Hot sugar soup with white rice a toasted black sesame seeds.
Chao hong guo – Sweet delicacy made by stir-frying fruits.
Chinese bakery products – Many types of pastries, from small sum-sum sized pieces to large celebratory cakes.
Chongyang Cake – Cake made from rice flour, pulse flour, jujube, chestnuts and almonds, eaten only during Chongyang Festival.
Coconut bar –Refrigerated dim sum-sized coconut pudding.
Crystal cake – 8 centuries old dessert.
Custard tart – Small pastry that hides egg custard below its baked surface.
Cut cake – Confectionery desert that is made big and then sold in slices.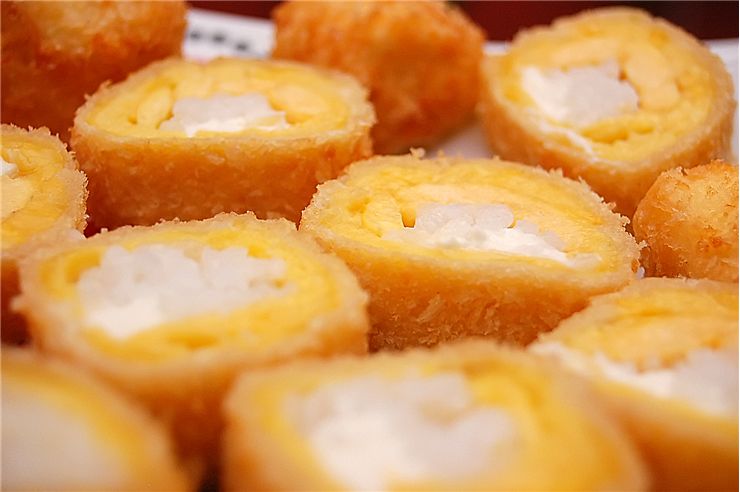 Douhua – Sweet snack made from very soft tofu. It can be found in hundreds of variations.
Dragon's beard candy – Traditional Chinese cotton candy consisting sugar, peanuts, coconut, sesame seeds, corn syrup and glutinous rice flour, looking very similar as spun sugar.
Egg tart – Chinese desert tart snack.
Egg tong sui – Cantonese sweet soup, mostly not offered in restaurants.
Eggies – Regional sweet snack of Hong Kong and Guangzhou.
Fried ice cream – Very interesting dessert, mady by quickly deep-frying scoop of ice cream, with hard crust that is enclosing still cold ice cream core.
Funing big cake – 2 thousand year old popular desert from Jiangsu province that is mostly eaten with tea.
Ginger milk curd – Pudding desert popular in Southern china.
Grass jelly –Jelly desert that is popular across entire Southeast Asia.
Guilinggao – Medicinal desert made from powdered bottom shell of turtle "cuora trifasciata" and variety of herbs.
Hasma – Desert made from dried fatty tissue of frogs.
Huangqiao Sesame Cake – Very popular pasty, hailed as one of the oldest cakes from Taizhou region of China.
Jiuniang – Sweet rice pudding that has up to 2% of alcohol that is eaten like a soup.
Kai kou xiao –Traditional Beijing fried sesame egg cake.
Lotus seed paste – Delicacy that can also be found with recipe that reduces number of (expensive) lotus seeds with white kidney bean paste as filler.
Mahua – Two Chinese dough sticks twisted one with another, often fried in peanut oil.
Mango pudding –Hong Kong desert that often served to both Chinese population and tourists as cold delicacy.
Mi san dao – Beijing delicacy, fried cake that is glazed in white sugar. It always contains vegetable oil.
Nai lao – Traditional Yogurt of Beijing province that has ingredients such as nuts, raisins and rice wine.
Nian gao –Celebratory cake made to be eaten during Chinese New Year. Many areas of China have their own specific variations of Nian gao cake.
Nuomici – Popular Chinese dessert that is made from glutinous rice with sweet filling that is shaped into a ball and rolled over dried coconut.
Orange jelly candy –Finger-sized confectionery food most popular in Hong Kong, mostly flavored with orange.
Put chai ko – Sweet pudding cake that is most popular in Hong Kong.
Red bean cake – Dark cake whose main ingredients is sweet red bean paste filling.
Red bean soup – Soup made from Azuki beans.
Rice pudding – Pudding made from rice, milk and other sweet seasonings (raisins, cinnamon).
Rooster Olives –Delicacy that mixes Chinese White Olives with various herbs, seasonings and spices.
Sachima – Sweet pastry food popular in Manchu, Canton and Fujian.
Snow skin mooncake – Celebratory dessert eaten during Mid-Autumn Festival. It is very sweet and is eaten cold, like ice cream.
Song gao – Cake that mixes rice flour, sugar, water and Azuki beans.
Sugar painting – Chinese delicacy made by artists who use hot liquid sugar to paint objects and two-dimensional figures that can be eaten when sugar becomes cold.
Sweet potato soup – Southern China desert that has a form of a sweet potato soup.
Sweetheart cake – Small bread-sized pastry, often called "Wife cake".
Tanghulu – Pastry and candied fruit most popular in Beijing and Shanghai.
Tangyuan – Dessert made from glutinous rice flour that is left to create balls, which are then cooked and served in boiling water.
Tapioca pudding – Sweet pudding made from tapioca or any type of milk (including coconut milk and cream).
Tong sui – Single name for large collective of sweet soup deserts that are eaten at the end of the bigger meals.
White sugar sponge cake – Chinese pastry that is popular in Hong Kong made from Rice flour, white sugar, water and leavening agent.
Xi gua lao –Jelly made from watermelon, cherries, agar, sugar and vanilla powder.